SOLD
1997 AUDI A4 QUATTRO 2.8
European Luxury Car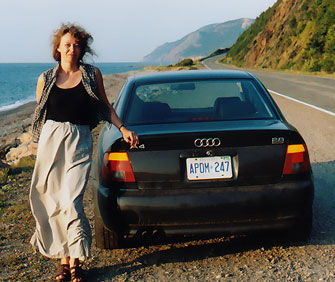 Although "compact," it is actually pretty roomy. Once she carried, beside me and curator, 30 (thirty!) good size oil-on-canvas paintings (some were 40"x36") from my gallery in Muskoka to an exhibition in Montreal.
I love this car and I had no intention to sell it – just recently I had installed new parts for about $3000, and then $3880 to replace the engine. Yet, it took little too long to find this right engine, so, tired from driving a rental car for over 3 months, I had to buy another – although very similar – automobile.
Thus, now
FOR SALE IN MUSKOKA
SOLD

1997 AUDI A4 QUATTRO 2.8
compact luxury car
SOLD
• engine recently replaced 2010
by CHESSWOOD TRANSMISSION
in Toronto, paid $3880; almost no driving since then – only short weekly runs to keep her in shape.
• many new parts recently installed:
all wheel bearings, brakes, parts in front suspension, radiator, water pump, wipers motor, thermostat, ignition lock and switch (replaced by AUDI on recall), battery
• all-wheel drive (Quattro)
• automatic transmission
• V6 cylinders, 2.8 L
• 270K km on highways
• black / black leather
• interior wood trim
• sunroof
• a/c with climate control
• trip computer, outside temperature display
• heated front seats
• heated driver's door lock
• power all
• cruise control
• fog lights
• anti-theft
• dual air bags
• alloy wheels, all-season tires
• concert AM/FM cassette radio, 8-speaker system
• pre-wiring for 6-disc CD changer
USEFUL LINKS FOR YOUR INFO: